Posted on June 05 2019
Hi there! Martha Lucia here with you.
I have a Happy Day Card featuring the
Love Foiled Paper Variety Package
of Rinea.  I love the colors included in this package. I really like how turned out my cards when I used Rinea Foiled Paper. The shiny and shimmer of this foil make it really special.
Cut the card base in regular size, 4-1/4"x11" with a score in 5-1/2".
Cut the second layers using the Glossy Ruby/Gold and Glossy Fuchsia/Gold included on the Love Foiled Paper Variety Package. In my sample, I decided to use the Glossy Fuchsia for the stitched border and the Ruby/Gold for the background.


Cut the words Oh Day using Glossy Blush/Gold paper included on the Love Foiled Paper Variety Package.
Cut the same words in black foam.
Paste the foam words behind of the Foiled words using Tombo Mono Liquid Glue.
Paste the Oh Day words over the decorated card base.
Using the Gold side of any glossy color included on the Love Foiled Paper Variety Package, cut the happy word.
Cut the happy word also in basic black card stock and paste it behind of the gold word.
Paste the Happy word over the other words.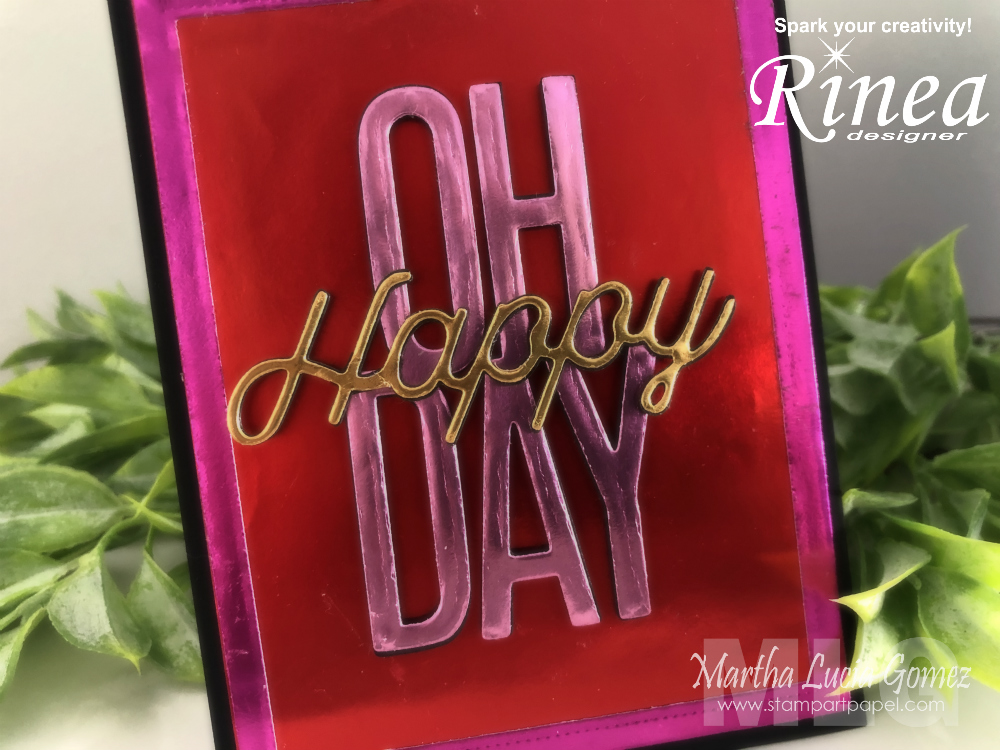 TIP: When you work with tiny letters, I recommended to use a piece of card stock behind them to keep it strong. But if your foiled paper shows little dents you can use a 
Blending Stump
to have it perfectly plain. Just rub the point of the blending stump behind of the piece of foiled paper that you want to use. Thanks so much for stopping by!